Coffee with Lion's Mane, Chaga, Reishi, Cordyceps, Turkey Tail & Shiitake
SUPER 6 Mushroom Coffee Blend
Regular price
Sale price
£16.99 GBP
Unit price
per
Sale
Sold out
Premium arabica coffee blend with 6 powerful adaptogen mushroom superfood extracts making a rich, flavourful and wellness boosting coffee.
RARA Super 6 Mushroom Coffee Blend contains instant arabica coffee with 6 of our most powerful adaptogen mushrooms: Lion's Mane, Chaga, Reishi, Cordyceps, Turkey Tail and Shiitake. Our superfood coffee blend gives a boost of energy whilst limiting crashes and jitters often associated with just coffee.
All our ingredients are raw, pure, clean and 100% natural with no additives or preservatives. The RARA Super 6 Mushroom Coffee Blend is gluten free and has no added sugar or sweeteners. It's just premium coffee with 1000mg of premium adaptogen mushrooms per serving. Perfect for a natural, energy boosting, great tasting coffee.
How to prepare: Mix 1 tsp (or more if you want it stronger) with hot water adding any milk / plant milk and sugar / sweeteners as per your desired taste to enjoy one delicious cup of coffee.
100g contains approx 40 servings
200g contains approx 80 servings
Share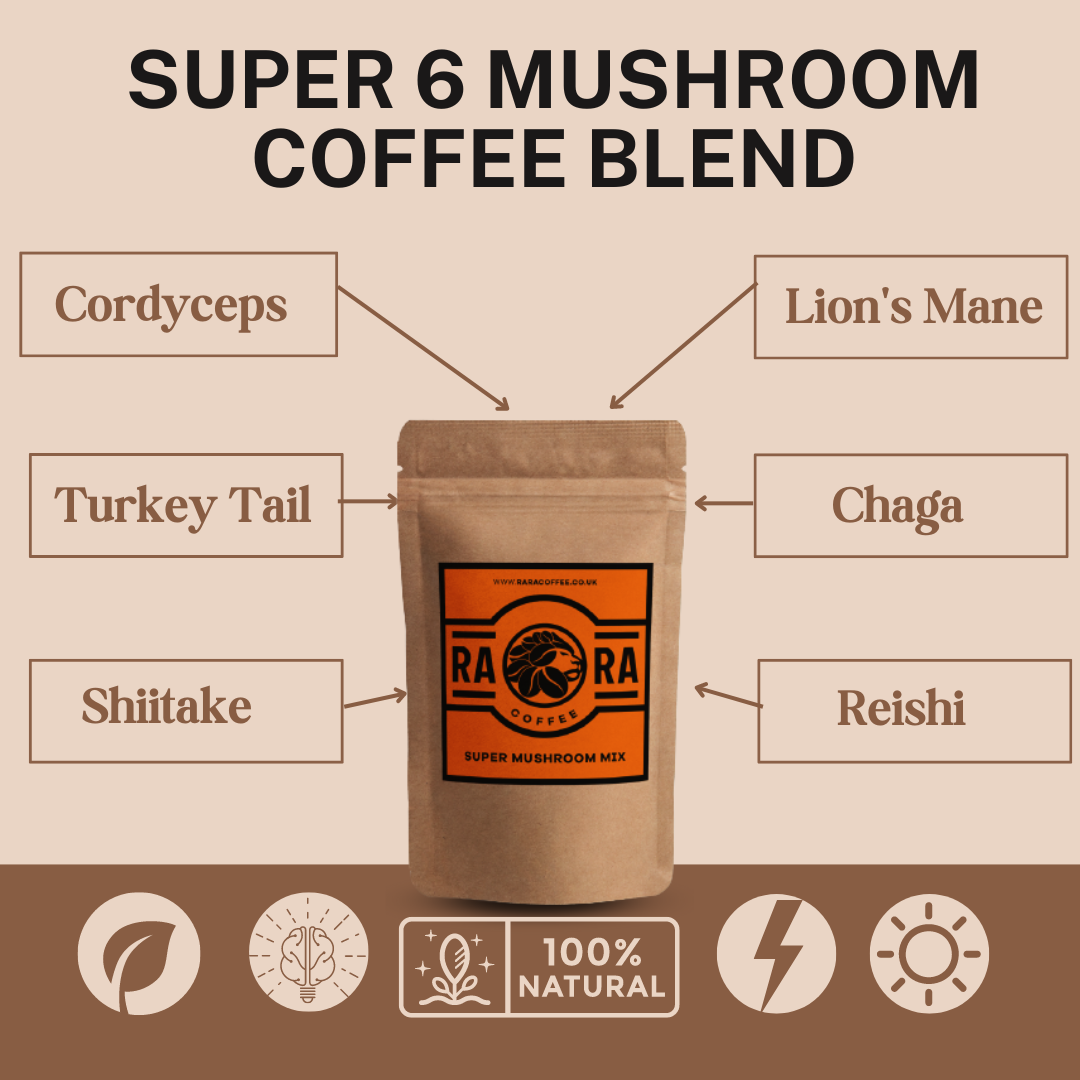 where is my order confirmation?
I cant really give a great review yet as i ordered from you and the money is showing having left my account but i am yet to receive any order confirmation email. a bit worrying when spending money on the internet. Having an order confirmation is basic stuff that gives peace of mind. Looking forward to trying your coffee though when it arrives.
Kept my mum happy and she was pleased with the coffee !
I recently purchased Rara Coffee as a prezzie for my mother , she had been wanting to try Mushroom Coffee for a longtime after reading about it in one of here magazine and was so excited when she opened it and when she tried it, she loved it. I will definitely be recommending this Mushroom coffee to others and recommend they purchase from your website as the delivery and service was brilliant. Many thanks
Lion's Mane, Chaga, Reishi, Cordyceps, Turkey Tail and Shiitake
Lion's Mane, Chaga, Reishi, Cordyceps, Turkey Tail and Shiitake mushrooms in a coffee blend fantastic product glad I discovered this , Amazing company too !!
Fantastic Product
I wanted to give it a bit of time for my review, so I waited a while before commenting as I wanted to get a honest opinion on it and can say that the Mushroom Coffee works, Feel more energy mentally clearer and my immune system has had a boost. Fantastic product and will be buying again.
An easy way to get your Mushrooms!
I have been using a Mushroom Complex in a capsule from , then discovered this Mushroom Coffee with 6 Mushrooms in a convenient coffee blend. This make it easier to get the Mushroom Goodies in a coffee !! I would highly recommended !